Yamaha SY-1
How about owning the first synthesizer model ever made by Yamaha (from 1974) – the SY-1.
A nice & completely original condition super funky (mono) preset synth that sounds very similar to the mighty GX-1 upper manual (3rd tier). Arguably the perfect partner for a CS80 as well, and did you know it was the very first synth used in the film Close Encounters of the Third Kind (before the Arp 2500 in the later sequence)…a bit of trivia for you.
The architecture of the SY-1 is basically GX-1 tech and the distinctive resonant filters offer something quite different from the similar Roland or Korg present synths of the time. Lots of paddle-presets and even aftertouch with some useful real-time contour controls, like pitch attack (like the CS80). Its actually quite a little ballsy (btw – a different word for Phat) synth and very enjoyable to play….and look at.
A nice funky video by Kebu here: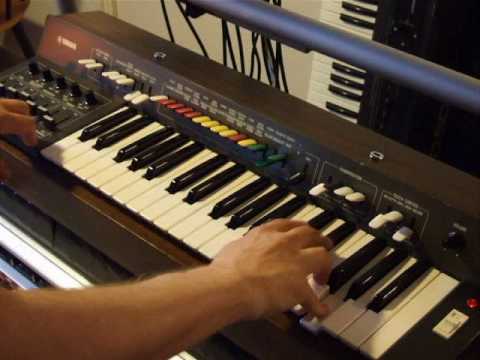 KSR have conducted a full operational service on this very rare synth so it plays perfectly.
This example is sold with a full 3 months warranty and runs on EU (220V) voltage.
Price = £550 UK Pounds
Availability = This synth is no SOLD – as at 15th December 2012
Click the thumbnails for higher resolution photos.
BUY THIS YAMAHA SY-1